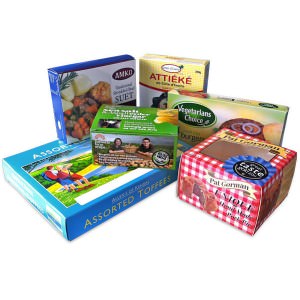 Create the right impression with an eye-catching lithographically printed food sleeve for food products where the consumer needs to see the product as well as the packaging including all the nutritional information. Food sleeves can incorporate hot and cold foil blocking as well as embossing and can be incorporated into your design to achieve a quality finish. You can also have the options of matte, glossy or UV varnishes to create added value to the food product. Our Steuer Foil-Jet offers unique capabilities to enhance your packaging. Its technology allows for unprecedented speed, and enables us to apply significantly more foil to the carton, while achieving higher quality levels. Furthermore, we can offer you the option of foil stamping on SBS or recycled board rather than using foilboard, thus reducing costs and lead times.
Food sleeves are perhaps the most commonest form of in-store food packaging and are sometimes referred to as watchstrap-style food sleeves. Food sleeves enable the customer to be drawn to the high quality printed images and nutritional information and at the same time being able to slide out the food product for a visual inspection. This is one area where opportunities exist to use recycled material and lighter carton board in the ready-meals market. The watchstrap-style cartonboard food sleeve for ready-meals and other food products is in high demand by supermarkets for environmental and cost benefits.
We can also advise on the best board to use too. You might want to consider using Maule RC Kraft (GC2) which is a fully coated folding boxboard with an unbleached Kraft reverse (Hard sized) that starts at 280 micron (180gsm) and goes up to 710 micron (390gsm) in standard specifications. The board is ideal for food sleeves as well as Dry & Frozen Food Packaging, Cosmetic & Skin Care Packaging and Toy Packaging.
You can find more information at Food Sleeves or alternatively call Jason on 01270 444777
Please browse our gallery at any time to see the results that can be achieved.