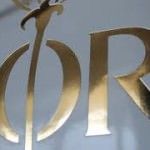 We utilise two types of machine to increase your product's shelf appeal: a Bobst BMA stamper and a Steuer Foil-Jet Rotary stamper.
Our Steuer Foil-Jet offers unique capabilities to enhance your packaging. Its technology allows for unprecedented speed, and enables us to apply significantly more foil to the carton, while achieving higher quality levels. Furthermore, we can offer you the option of foil stamping on SBS or recycled board rather than using foilboard, thus reducing costs and lead times.
Foil blocking is the process of applying metallic or 'foil' effects to a surface. It uses a metal die – like a stamp – onto which the design is chemically etched or crafted by hand from supplied artwork. Dies are made from various metals and can be either 'flat' (foil only) or 'combination' (foiling and embossing done in one pass).
Variety of Finishes
The technique produces effects which are practically impossible to achieve using traditional ink printing. Foils are available in a variety of finishes, including gloss, matt and satin. Along with standard gold and silver, you can choose from many other metallic colours. Some foils do have restricted uses, so please check with us first.
Foil blocking can transform conventionally printed materials and make them shine. Stationery, business cards, greetings cards, certificates, promotional items, invitations, packaging and a whole host of other products can all benefit from foil blocking. Do chat with us at the concept stage of your project, so that we can advise you on the most appropriate way of achieving your designs.