ABC Packaging offers you the latest in die cut box technology.
All of our cutting dies and counter plates are made by the skilful hands of experienced craftsmen, ensuring the accuracy of each die. In addition, investment in new machinery significantly increases the capacity of our folding carton operation, allowing us to provide even quicker turnaround times to our clients.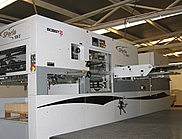 The Process
Flat bed die-cutting is a process used for the cutting, creasing, embossing, waste stripping, and blank separation of a range of sheet materials, from light papers and carton board, through heavy solid board and plastics  to micro-flutes and most types of corrugated board.
Feeder or loader: Using suction heads or a push system, this unit transports sheets from the pile to the machine in-feed
In-feed: Takes control of each individual sheet and registers it to the cutting tools using mechanical or dynamic registration
Platen section: This is the heart of the machine, bringing the cutting die and cutting plate together under pressure. Held between them, the sheet of substrate may be die-cut, creased or embossed, depending on the application and substrate
Stripping section: Internal waste, and sometimes side and rear trim, is removed using an upper stripping tool, central stripping board, and, in some tooling arrangements, lower stripping pins
Blank separation section: Using universal or dedicated blanking tools this unit pushes individual cartons from the sheet, creating a pile of flat blanks ready for further processing or for transfer to the customer. A blank separation unit incorporates its own delivery unit
Delivery: On machines with no blank separation section, the delivery creates either a pile of full sheets or of blanks attached to each other by nicks. The front trim of the sheet may be removed at this stage
By combining highly accurate registration with precise sheet control at each stage of the process, a flat bed die-cutter offers the ultimate in quality when cutting, creasing or embossing sheeted material.
If you're looking for die cut box packaging, please get in touch.
How Can We Help You?
If you have a design in mind, or even if you have no idea where to start, we'd love to hear from you. We can start working with you at any stage of the process - from the initial designs to the final printing. Feel free to call our friendly office team, or fill out a contact form to get a quote.