Our capabilities range from gluing simple in line cartons to the most intricate of designs.
The recent acquisition of a new Gluer further improves the company's strategic position for the future. The new equipment combines gluing and folding capabilities in one pass and differentiates ABC from the competition by offering customers more alternatives with reduced turnaround times.
We now have the capability to produce many different box styles from basic straight line gluing to the more intricate designs.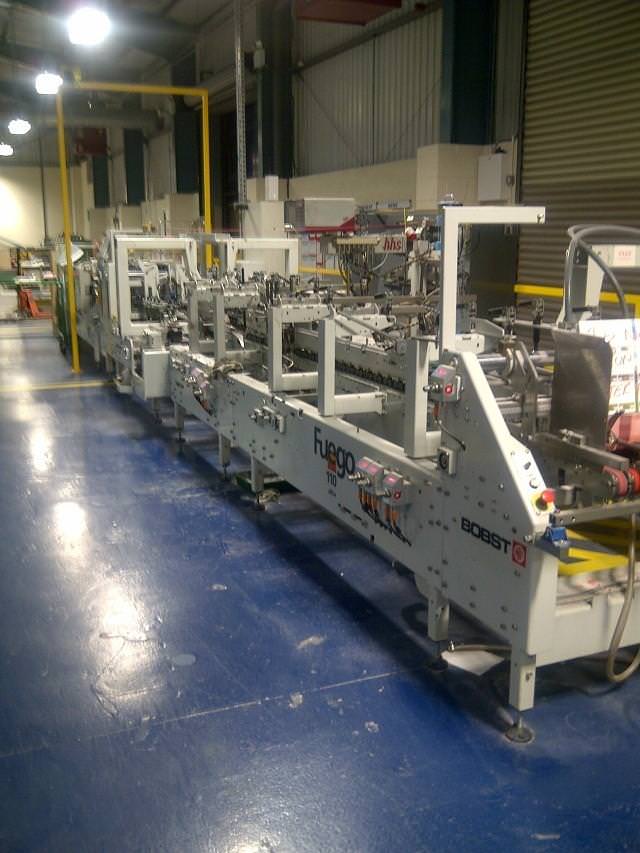 Folding and Gluing Process
In essence, the folding and gluing process transforms a piece of flat material into a finished product such as a box, envelope, or promotional item. This is achieved by folding the blank along pre-creased lines and applying the adhesive that will hold the product together.
We can process a wide range of materials including solid board, plastics, metalized boards, litho-laminates, micro-flutes, and corrugated board. Their use is seen mainly in the packaging industry where they transform flat blanks into straight-line, crash-lock bottom, or multi-point boxes.
As a die-cut and creased blank passes through a folder-gluer, a selection of specially positioned rails, rotary hooks, and other devices fold its panels to their required positions while adhesive systems apply cold glue or hot-melt adhesive to appropriate locations.
The folded and glued blank will then be placed under pressure for the adhesive to cure as it is transferred to the delivery. Highly sophisticated control systems track the blank during its transformation and, in conjunction with quality assurance equipment, will eject any product that does not conform to pre-determined criteria.
Types of boxes
If you're looking for and of the following styles then we'll be happy to provide you with a quotation:
Same panel tuck in end box
Reverse tuck in end box
4 corner glued trays
Pillow packs
Crashlock bottom boxes
Press lock bottom boxes
Wallets
Sleeves
Boxes and Lids
Lunch boxes
Header cards
How Can We Help You?
If you have a design in mind, or even if you have no idea where to start, we'd love to hear from you. We can start working with you at any stage of the process - from the initial designs to the final printing. Feel free to call our friendly office team, or fill out a contact form to get a quote.