As a carrier bag manufacturer, we supply a wide range of carrier styles.
As with all of our products we offer all over printing on state of the art machinery. We provide a full graphic design service and are capable of creating designs from scratch or working with supplied artwork.
If you have any questions our sales team is always pleased to help.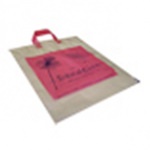 Flexi-loop Handle Bag
The Flexi-Loop Handle Bag is a multi-purpose carrier bag. This product is manufactured from a high quality printed plastic material and then fitted with a comfortable looped handle.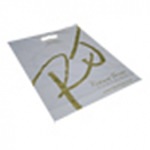 Patch Handle Bag
This is the most popular form of plastic carrier bag on the market. It is an effective reinforced handle bag offering low cost and high strength. The bag comes in two basic forms:
Patch Handle, where the handle area is reinforced using an extra sheet of plastic that is glued into place.
Turnover Top, where the top of the bag is turned back in on itself before the handle is punched through; this form offers increased strength through the resultant double wall effect.
Varigauge Carrier Bag
Varigauge carrier bags are suitable for a variety of markets such as fashion retailers, card and gift shops, exhibitions and jewellers.Varigauge carrier bags are produced from low density polythene which is blown in such a way that the polythene is double the thickness at the top of the carrier around the handle. This is an alternative way of reinforcing the handle rather than using a patch.
The carriers can be manufactured with a straight top or a wavy top at the customer's discretion.
Duffle Drawstring Bag
Our duffel string handle carrier bag is manufactured from high quality printed plastic, reinforced and then fitted with a rope drawstring. This design is popular for product promotions and is highly attractive.
Clip Close Handle Bag
The Clip Close Handle Carrier Bag is another popular high-street design. The product consists of a high quality printed plastic bag which is fitted with a reinforced clip closing strip.We also offer an automatic clip close handle product, 15″ wide bags and under are fitted with 8.5″ automatic handles and wider bags with 13.5″ handles.
Platinum Rope Handle Bag
Our Platinum carrier bag range is the highest quality rope handle bag that is available on the market today. They are becoming the most frequently used bag on the high street. Not only are they durable but they are also highly attractive.These bags are manufactured using top quality paper and your images are printed using high precision flexographic or express lithographic methods.
Paper & Twisted Paper Handle Bag
This bag comes in two designs 'Boutique' and 'Studio'. Both bags are manufactured from a high quality printed paper material and are fitted with a practical twisted paper handle. With the Boutique design the top of the bag is folded over to reinforce the structure. The Studio bag is left plain cut.
We're one of the leading carrier bag manufacturers in the UK. Please
get in touch
today.
Any Questions?
Just Let Us Know
If you have a design in mind, or even if you have no idea where to start, we'd love to hear from you. We can start working with you at any stage of the process - from the initial designs to the final printing. Feel free to call our friendly office team, or fill out a contact form to get a quote.