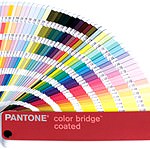 We utilise an all-digital workflow, including same-day transmission of files.
Our Dainippon Screen® Computer-To-Plate digital thermal platesetter automates the flow of data from prepress directly to a high quality printing plate. This eliminates the need for film and several time-consuming steps associated with traditional platemaking.
Benefits to our clients include:
Faster turnaround
Improved and more consistent print quality
Easier corrections or changes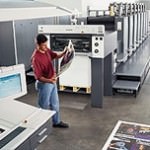 Printing
ABC Packaging offers both offset and flexo printing, allowing us to provide the best alternative depending on your requirements.
Offset
Our offset presses are capable of printing up to five colours with UV or litho varnish coating.
In addition, we have expertise in printing on many different substrates including:
Paperboard
Foilboard
Microflute
Plastic (APET, PVC, or Polypropylene)
Optimal print quality and accurate colour reproduction is ensured throughout the press run by employing various control systems such as densitometer readings by measuring the ink film thickness on the sheet.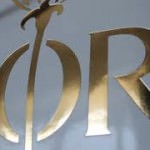 We utilise two types of machines to increase your product's shelf appeal: a Bobst BMA stamper and a Steuer Foil-Jet Rotary stamper.
Our Steuer Foil-Jet offers unique capabilities to enhance your packaging. Its technology allows for unprecedented speed and enables us to apply significantly more foil to the carton, while achieving higher quality levels. Furthermore, we can offer you the option of foil stamping on SBS or recycled board rather than using foil board, thus reducing costs and lead times.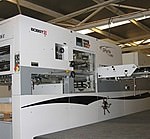 ABC Packaging offers you the latest in die cutting technology, combining automation with precision. All of our cutting dies and counter plates are made by the skilful hands of experienced craftsmen, ensuring the accuracy of each die. In addition, investment in Bobst die cutter/blanker machinery significantly increases the capacity of our folding carton operation, allowing us to provide even quicker turnaround times to our clients.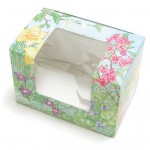 Our windowing capabilities include the application of a variety of materials, such as cellophane, and PVC windows, providing you with an effective method of displaying your products.
Our new window-patching machine combines precision with production efficiency, offering speeds up to 30% faster than competitive machines.
Our capabilities range from glueing simple inline cartons to the most intricate of designs.
The recent acquisition of a new Gluer further improves the company's strategic position for the future. The new equipment combines glueing and folding capabilities in one pass and differentiates ABC from the competition by offering customers more alternatives with reduced turnaround times.