Can we help with your Frozen Food Packaging?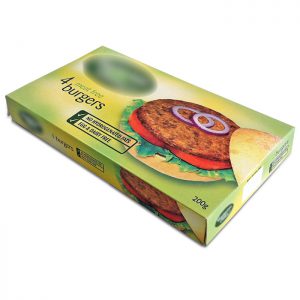 Hit the shelves with the greatest impact, make your frozen food packaging stand out from the rest with eye-catching print on quality board. Consider using Excellent TOP (GC2) Fully Coated Folding Boxboard with a cream back (available HS & GF /GR). Our frozen seafood packaging boards offer exceptional graphic capabilities, superior product protection, and may improve your manufacturing efficiency.
Frozen Food Packaging manufactured from folding boxboard remains one of world's best options for cost-effective packaging that needs high graphic impact, product protection and versatility, while coming from a renewable resource and being the most widely accepted packaging material for recycling programs worldwide.
Due to the temperature changes that the boxes and sleeves will experience; it is essential that the resulting condensation doesn't compromise the integrity of the packaging. The choice of the correct board for frozen food packaging to withstand these temperature changes is paramount, so that the customer seeing the packaging for the first time sees it in the same condition it left your premises.
What are the uses for this board?
Cartons:
Cakes, Chilled Food, Chocolate & Confectionery, Cosmetics & Skin Care, Drinks, Frozen Food, Medical & Healthcare and Toys
Graphics:
Covers, Folders, Hosiery, Media and Sleeves
Mill Information
High quality virgin fibre-based cartonboard has been produced at Baiersbronn since 1951. The mill has built its reputation with Optimus White Back and Excellent Cream Back folding boxboard, which are mainly used in food packaging, cosmetics and pharmaceutical packaging, whilst their barrier-coated versions are used in bakery and frozen food.
The Baiersbronn mill combines state-of-the-art technology and processes with a highly skilled and knowledgeable workforce. Environmental protection is an important priority at Baiersbronn and has been for many years. Measures to protect the environment are not just limited to production but also include upstream and downstream areas of the supply chain, including purchasing and logistics.